This Saturday a number of groups in Cardiff and south Wales are hosting an event to mark World Homeless Day.
It's an event to raise awareness and to get people involved in taking further action together with people who are homeless.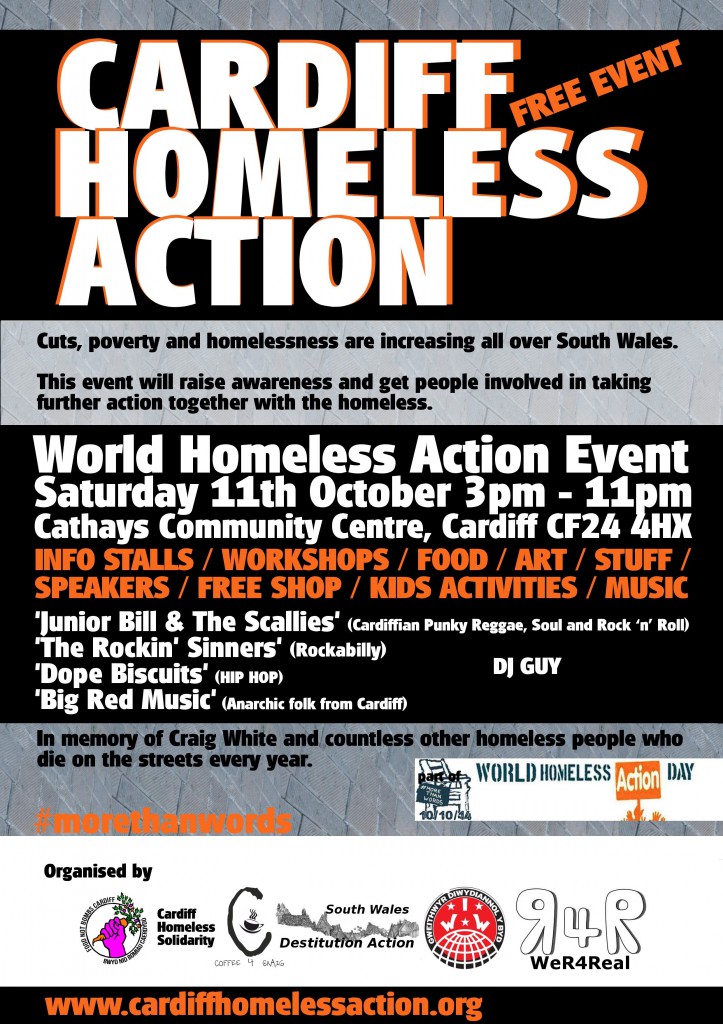 Daytime – 3pm to around 6pm - info-stalls, music, free food, art, kids activities, speakers, free-shop and workshops; including destitution, squatting and skipping.
Evening – 7pm to 11pm – live music and a DJ, bar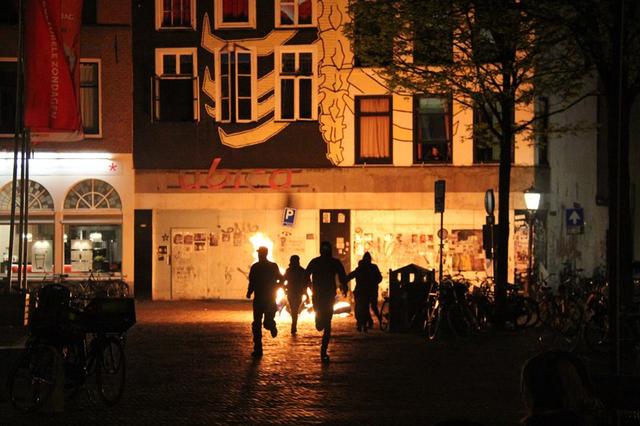 Autonomous spaces are rare and (sometimes) beautiful things that are often overlooked by the majority of society. People can walk past the same space a hundred times without batting an eyelid, while continuing on their drone like life. Safe in the knowledge that those "hippies", "scroungers" and "layabouts" are out of the way, safe in the knowledge that their idea of "normality" is not challenged.
However, on the night of May 24th in Utrecht there was no way of ignoring any longer, no way of hiding the truth of the conflict that rages on a daily basis around the world. What escalated into an onslaught requiring: riot pigs, mounted pigs, and even flying pigs, was resisted using burning barricades, fireworks and an arsenal of paintbombs in defence of the squat Ubica which had stood for 21 years as a home to beautiful people and ideas.
A full report can be found here.
To the detainees,
We at the Red and Black Umbrella wish to express our unconditional solidarity with all 11 detainees who were taken captive after bravely defending the squat Ubica .
Your actions (while not needing any) were more than justified. In the face of ever widening austerity and repression across prison fortress europe, these spaces are valuable parts of the community providing space for creativity to blossom and the individual to realise themselves. When taken we lose a home/meeting place/hideout/workshop or any number of other things that the mind can create of a space.
Your actions were not in vain. We all know that it is only a matter of time once the eviction process begins, that the loss of the building is inevitable. But our strength is not only in keeping the bricks and mortar, it is in the home we make of it in our hearts. It is not only in the ferocity with which we defend it but in the shared pain that we feel when a space is lost. These ideas and emotions transcend language, borders, class and fuel fires in the hearts of comrades the world over.
Fuck the law! Squat the world!
Kraken gaat door! Mae sgwotio'n parhau! Squatting coninues!