We welcome back Bristol Antifa skacore punks Atterkop back through our doors with special guests, Dead City Riot- Hardcore ska all the way from the USA, on the first day of their European tour!
Also playing will be Chewed Up and Public Order act, so don't miss out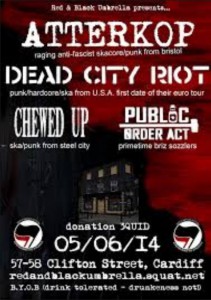 Atterkop- http://www.riotskarecords.com
2014 will see them continue to tour while fundraising for causes close to their hearts.
Atterkop have one simple goal, to make music for social change not fashion or profit.
DEAD CITY RIOT EUROPEAN TOUR 2014 -
http://riotskarecords.bandcamp.com/album/before-the-dawn-ep-re-release 
The "anarcho punk/skacore" force to be reckoned with, DEAD CITY RIOT, hailing from Connecticut, USA are heading back to Europe for the second time this year. On this occasion they will be armed with a full length record and a shed load of new tunes.

Chewed Up – http://www.chewedup.co.uk
A DIY Anarcho-ska project from Sheffield. Bits of Choking Victim hammered together with bits of UK82, 80s Crust. and US 80s HC.
Played with the likes of Discharge, Subhumans, Dogsflesh, Morning Glory, Restarts, Barb Wire Dolls and many more.
Public Order Act-http://www.facebook.com/carnivalpunks
Dub Punk from Bristol!
Suggested donation of 3quid
Profits split between South Wales Antifa and The RBU Social Centre funds-
Give what you can!
Drink tolerated DRUNKENNESS NOT
BYOB
Doors at 5pm
Love and Peas. E. xX