CHARLIE'S LEG
 So, basically, Charlie has a deformed leg, and if it isn't operated on then he could develop arthritis and lots of pain. The PDSA can't do the operation because they don't have the necessary specialist or enough money for corrective surgery, so this gig is to help.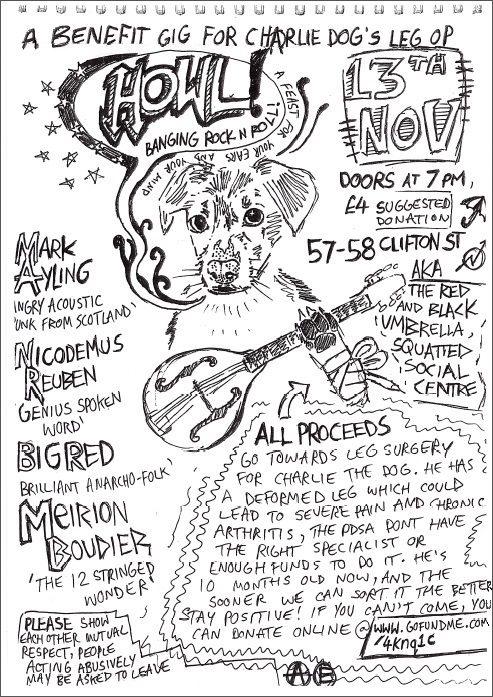 *HOWL – Banging Hard Stoner Rock from Cardiff -
'If Rock and Roll were loins, Howl would be it's fruit'
*CHARLIE – The coolest and cheekiest dog in Cardiff, all the way from the harsh streets of Spain. Bigger and badder than ever, he's literally growing all time. He'll be on the door, looking fabulous.
*MARK AYLING – Raw, Aggressive, Angry, Acoustic Punk from Scotland.
*NICODEMUS REUBEN – He's not very good at making things out of wood or bricks or metal so he makes things out of words. Excellent spoken word.
*BIG RED – Spendid political anarcho-folk from Cardiff
*MEIRION BOUDIER – 'The 12 Stringed Wonder'
Followed by an OPEN MIC session
SAFER SPACES POLICY
This event is covered by the Red and Black Umbrella's new safer spaces policy, in short, this means that people should people treat each other with mutual respect. Respect each others boundaries and personal space. Be aware of the range of different identities (genders, races, sexualities, class etc.) that people may identify with and respect them. Anyone being abusive may be asked to leave.
£4 Suggested donation. Give what you can, no one will be refused for lack of funds.
There's also a page online for donations, check it out at: http://www.gofundme.com/4knq1c