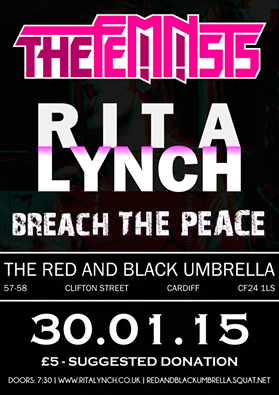 A fundraiser gig for the Red and Black Umbrella Social Centre, featuring 'The Feminists' all the way from Germany, 'Rita Lynch' from Bristol and the second ever gig of Red and Black Umbrella resident band 'Breach of the Peace'.
A voluntary donation will be asked at the door for vital repairs and equipment needed to make the Social Centre better. We could buy more LED lights, a better battery, fix various holes in the walls, and generally do loads of things to make parts of the building warmer and lighter. So come on down xxx
Doors 7:30pm
see farcebook event here
The Feminists
GIVE PRAISE TO THE GODDESS!!!! The Feminists are not a band: they are HERALDS of a NEW PHASE in HUMAN COMMUNICATION!!! The Femininsts BRING WORD of the FEMINISATION of the HUMAN SOUL, starting with DRUMS and pumping ROCK n ROLL!!! THE FEMINISTS herald an era of MATRIARCHAL FIST PUMPING, of LICENTIOUS BEHAVIOUR and of the ASCENDANCE OF THE FEMININE PRINCIPAL!!! So COME, SAVOUR, and DANCE YO ASSES OFF!!!!!! THE FEMINISTS ARE HERE!!!!!!
Rita Lynch
Makes Motorhead sound like the Spice Girls.
NEW ALBUM – ANTI SOCIAL – 19/12/14
Breach of the Peace
Cardiff no-borders punks